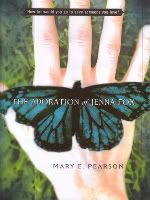 The Adoration of Jenna Fox
Author: Mary E. Pearson
Hardcover: 272 pages
Publisher: Henry Holt and Co. (BYR) (April 29, 2008)
From the back of the book:
Who is Jenna Fox?
Seventeen-year-old Jenna has been told that is her name. She has just awoken from a year-long coma, and she's still recovering from the terrible accident that caused it. Her parents show her home movies of her life, her memories, but she has no recollection. Is she really the same girl she sees on the screen?
Little by little, Jenna begins to remember. But along with the memories come questions—questions no one wants to answer for her. What really happened after the accident?
Personal Review:
This book has been on my TBR pile for a while now, and yet when I picked it up I couldn't get into it. I don't know if it was the subject matter, or just I wasn't interested. I tried to read past the third chapter but just couldn't get into it. Although the writing was done very well, and I could visualize what was going on, this book was just not for me
Rating:
0 out of 5 (DNC = Did Not Complete)