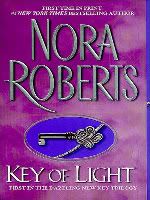 Key of Light (The Key Trilogy Book 1)
Author: Nora Robert
Paperback: 352 pages
Publisher: Jove (October 28, 2003)
From the back of the book:
What happens when the very gods depend on mortals for help? That's what three very different young women find out when they are invited to Warrior's Peak.
The Malory Price Life Plan does not include a quixotic quest - but the strangers on Warrior's Peak claim that she must find a key that will release three souls held captive by an evil god.
Little does she know that the quest will bring her two new friends, the love of her life, and danger beyond anyone's imagination.
Personal Review:
This book set up the beginning of the trilolgy beautifully. Usually in the first book of a series, most authors spend too much time focusing on one person, instead of using the first book to set up the specific story and introduce the rest of the key players. All of the characters are different from one another in large ways, but they all compliment one another wonderfully. Flynn and Mal are a cute couple, he's rough and relaxed where she's soft and up tight. The other characters in this book are funny, Dana's a librian with a temper, and Zoe is the mother with a heart of gold. The men folk in this series are just as amazing. Jordan is the bad boy author, and Brad is the rich guy with a good guy complex. The rest of this series is going to be good, I can't wait to see what happens next.
Rating: 4.5 out of 5