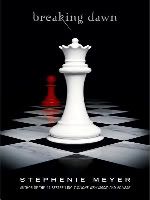 Breaking Dawn (Twilight Series)
Author: Stephanie Meyer
Hardcover: 768 pages
Publisher: Little, Brown Young Readers (August 2, 2008)
From the back of the book:
"Don't be afraid," I murmured.
"We belong together."
I was abruptly overwhelmed by the truth of my own words.
This moment was so perfect, so right,
there was no way to doubt it.
His arms wrapped around me,
holding me against him. . . .
It felt like every nerve ending in my body
was a live wire.
"Forever," he agreed.
Personal Review:
I took my sweet time actually picking up this book. I had read the other 3 and wasn't sure if I wanted to end the series quite so quickly. I knew that once I did start reading, I wouldn't be able to put it down. I'm not sure if that's because I really like the story, or because it's so fascinating to hear the complaints that others have with the characters that I want to make up my own mind. While I do agree with other critic's that the characters are a bit to perfect, and the whole situation is one happy ending, this book delighted me. It made me laugh, and cry. Jacob, Bella, and Edward are all characters that even though they seem to be too perfect, take on a life of their own. The story and concept was brilliant, the action quick paced and age appropriate. Personally, I hope that Stephine Meyer will release more for this series, there is a lot left to explore, and there are many points in the story that set up nicely for another book.
Rating: 4 out of 5