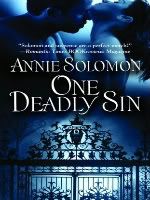 One Deadly Sin
Author:
Annie Solomon
Paperback: 416 pages
Publisher: Forever (May 1, 2009)
My Rating:
3.5 out of 5
Summary:
Edie Swan, formally Eden Swanford is out for revenge. She returns to her home of Redbud, Tennessee hell bent to make the men she believes responsible for her father's death pay. She starts by sending out black angels to each of the men, hoping that the sight of the black angel will goad them into spilling the beans about what really happened to her father all those years ago. Except that when the men start dying, Edie becomes the number one suspect. Even to herself!
Holt Drennen, the sheriff of Redbud, doesn't suspect Edie at first, all he wants to do is get her in the sack. But after awhile he starts to suspect that Edie knows more than she is letting on. When the previous sheriff of Redbud gets the black angel, Holt and Edie really start to worry. Seeing as how it's Holt's father.
This was a fantastic read, the mystery was enough to keep the pages turning, and after awhile I really seemed to get wrapped up in what was going on. A good read, something that I would recommend to anyone who likes mystery and some romance.