TBR Thursday is a meme hosted by Drea of Book Blather.
TBR Thursday highlights all those books that are already out (whether you own them or not) that you're dying to read, but haven't had the chance to yet. There can be some old books, some new books, and some that are in between, but they have to be books that you want/hope to read and review!
Don't forget to go tell Drea what a book off your TBR pile is, and find out what other people are hoping to read.
A book off my TBR pile is: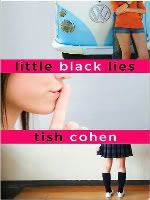 Little Black Lies
Author:
Tish Cohen
Hardcover:
320 Pages
Publisher:
EgmontUSA (October 13, 2009)
From the back of the book:
Sara Black is tiptoeing across a fraying tightrope.

As the new eleventh grader at Anton High–the most elite public school in the country–she sticks out like an old VW bus in a parking lot full of shiny BMWs. But being the new kid also brings a certain advantageous anonymity.

In Anton High's world of privilege, intelligence, and wealth, Sara can escape her family's tarnished past and become whomever she wants.

And what's the harm in telling a few little black lies when it can lead to popularity? That is, until another it girl at Anton becomes jealous of Sara's social climbing.

With her balance evaporating, one small push could bring Sara crashing down.