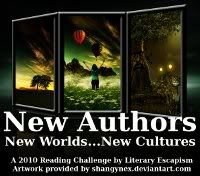 For 2010, I'm stepping my toes into the big pond of Reading Challenges. Every Friday throughout the month of December I will be setting up and featuring the Challenges I am participating in. I've selected the Challenges based on the criteria for each individual Challenge. My goal is to find Challenges that allow for over lapping, so that I can get the most for my reading, and still feel massively accomplished.
The first Challenge I'm showing for the 2010 reading year is:
Literary Escapism's
New Authors Challenge 2010
. The goal of this Challenge is to find new authors in genres that I like, or just new authors in general. I am going to take the 25 Book Challenge, which means that I will be reading books by 25 new (to me) authors. If I read more than that's great, and if I only read the 25 well hey, that's fine too.
Now for the guidelines, taken directly from
Literary Escapism's post
:
1. The challenge will run from January 1, 2010 through December 31, 2010.
2. Since this is an author challenge, there is no restriction on choosing your novels. They can definitely be from other challenges. However, the authors must be new to you and, preferably from novels. Anthologies are a great way to try someone new, but only a third of your new authors can be from anthologies.
3. I want this to be an easy challenge, so you can pick to do either 15, 25 or 50 new authors. It all depends on how fast you read and how adventurous you want to be. For me, I'm trying another 50 new authors. If you reach your goal halfway through the year, don't stop. Any new author you try can be added to Mr. Linky. We all want to know about your new experience.
4. After reading your new author, write your review and then come back here and add your link to Mr. Linky. Make sure you include your name and the author.
5. Bloggers or Non-Bloggers alike are welcome

If you are interested in signing up for the
New Author Challenge 2010
, then head on over to Literary Escapism and sign up!