Knight of Pleasure
Author:
Margret Mallory
Paperback:
400 pages
Publisher:
Forever (December 1, 2009)
Recieved:
from publisher for review & blog tour
Rating:
4.5 out of 5
Summary:
Isobel is the apple of her fathers eye. She is everything he's ever wanted in a child. Headstrong, courageous, beautiful and smart. So when he gives her in marriage to a man who is practically ancient, she feels as if she was betrayed in the worst way possible. When her husband dies he leaves her with no other option but to agree to wed a French noble man to help form a political alliance.
Stephen is a womanizer, and an amazing solider. However, he is looking for something more even though he doesn't know it yet. When he meets Isobel he's immediately attracted to her, even though she is promised to someone else.
Knight of Pleasure
was a very enjoyable read. To me it was of the same quality as Judith McNaught, and Jude Deveraux, two of my favorite authors in this genre. It was nice to read something that was quick paced but made the reader care about the characters. There were times when Isobel was going through some really crappy stuff, that just broke my heart.
Stephen is someone who I would be interested in. He was strong and stubborn and just from his description and personality, delicious. And Isobel who grew up a tomboy kept that up through out the whole story, which pleased me. She was no delicate wilting flower, she was strong and feminine, and honestly I felt that she would have fit in the time period she was written for.
The fact that
Knight of Pleasure
is part of a series didn't matter either. Yes there were allusions to the story before it, but it worked well as a stand alone as well. I didn't feel as if I had missed anything from the first story. I will be picking up the third book
Knight of Passion
and digging out the copy of
Knight of Desire
that I had won in a contest awhile ago.
Great book, great read. I would recommend to anyone. I know that this book is for sure a keeper on my shelf.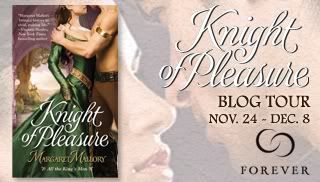 I have 5 copies to give away.

All you have to do is fill out the form below.

COMMENTS WILL NOT COUNT FOR AN ENTRY

U.S and Canada only, No P.O boxes

Special thanks to Anne at Hatchet for allowing me to host this give away.

Winners for today's contest will be announced

Good luck!
~*CONTEST CLOSED~*