For 2010, I'm stepping my toes into the big pond of Reading Challenges. Every Friday throughout the month of December I will be setting up and featuring the Challenges I am participating in. I've selected the Challenges based on the criteria for each individual Challenge. My goal is to find Challenges that allow for over lapping, so that I can get the most for my reading, and still feel massively accomplished.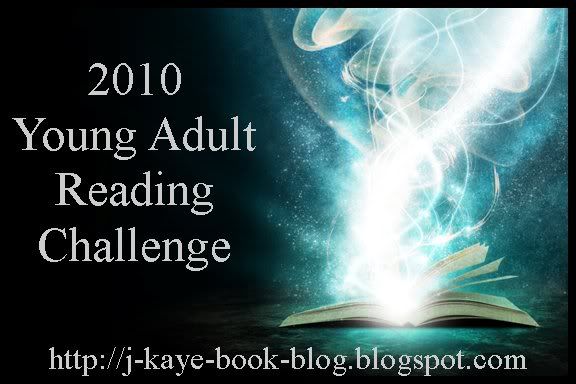 Today's challenge is hosted by J. Kaye's Book Blog. Last year I participated and completed the 2009 Young Adult Reading Challenge, it was the first and only challenge I participated in. And honestly I was amazed at how quickly I had completed it. Apparently I wasn't the only one who completed it rather quickly, because for the 2010 Young Adult Reading Challenge, there are 4 different levels to compete in.
The Mini - Read 12 YA books

Just My Size - Read 25 YA books

Stepping it Up - Read 50 YA books

Super Size Me - Read 75 YA books
Now for me it was a tough decision, I knew I wanted to read more than 12, but didn't want to get stuck reading 75 YA books, because sometimes they get to be a little much for me and that's when Jess needs her adult reading time. So I've decided that for the 2010 Young Adult Reading Challenge, I'm going to be Stepping it Up and reading 50 YA books.
The rules are pretty simple and straight forward so I'm just going to paraphrase them real fast. You don't need to list your books in advance if you don't want too. E-Books, Audio Books and re-reads are all fine. And best of all, you don't have to have a blog to participate!
If you are doing this challenge as well, feel free to let me know. I'd love to keep track of what others who are participating are reading.