Books Read and Reviewed:
5
To Desire a Devil by Elizabeth Hoyt
Bed of Roses (The Wedding Quartet book #2) by Nora Roberts
Lavender Morning by Jude Deveraux
Stolen by Kelley Armstrong
Pride and a Pregnancy Secret by Tessa Radley
Pages Read:
1,744
Books Not Finished:
0
Exciting Notes About This Month:
I participated in the To Desire a Devil blog tour, and gave away 5 copies of the book. Congratulations to all my winners.
I was also awarded the One Lovely Blog award from
BookMac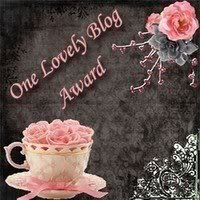 About this Award:
Accept the award, post it on your blog together with the name of the person who has granted the award, and his or her blog link. Pass the award to 15 other blogs that you've newly discovered. Remember to contact the bloggers to let them know they have been chosen for this award.
At this time I'm not going to be passing it on, but at a later time and date I will! :)
Goals For Next Month:
In the month of December, I am participating in another
Read-a-Thon
, this one isn't in memory of Dewey, but since I was unable to participate in the one that was held in October, I'm looking forward to doing this one. It's not too late to sign up, so if you want to have some awesome
Read-a-Thon
fun with us, head on over and sign up! The Read-a-Thon is December 5th, and starts at 6 am PST.
Also in the month of December I am participating in the
Book Blogger Holiday Swap
and in the
Secret Santa
. It's too late to sign up to join in the fun, but make sure to check out and see what the bloggers are swapping.
I have pledged to
Buy Books for the Holidays
this year. Check out the blog for some awesome recommendations on what books to buy your loved ones.
Plus I will be guest posting for Drea at
Book Blather
for her Blogoversary, which is the 23rd of December. She's still looking for guest posters so make sure to go check it out and see if you can contribute!
And as always, I'm hoping to comment more, keep up with my google reader (seriously this thing could take over a small country and dominate it), and keep up with my reviewing and posting.
Tell me, how was your month?