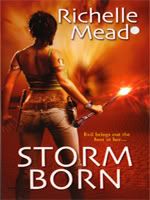 Storm Born
Author:
Richelle Mead
Paperback: 384 pages
Publisher: Zebra (August 1, 2008)
Received From: Library
My Rating:
4 out of 5
Summary:
Eugenie Markham is a super powerful shaman, she leads a fairly mundane life except for the fact that her job pays her to deal with all sorts of supernatural beings. When a prophecy is revealed she suddenly becomes the most desired woman amongst all of the beings of the other world.
In a short period of time she has to learn to rely on not only her instincts but on the people she thought she could trust. When she finds out that everyone seems to have alternative motives for helping her. She really starts to wonder who she can trust and who is on her side for real.
This book hosts a super colorful cast of characters. Eugenie has two love interests who are so different from one another. Kiyo who is a Kitsune, or a fox shape shifter, and is fiercely loyal. There is also Dorian who is a fey. Eugenie knows she cannot trust Dorian, but finds herself drawn to him anyway. And with Kiyo, Eugenie wants to trust him but when she finds out that he too has an alternative motive for helping her she wonders if there was anything between them at all.
There are also Eugenie's two minions. While they are both secondary characters they made reading this book fun, the two characters always inserted a little bit of comedy into some otherwise serious situations.
I would recommend this book, with no qualms. There is a lot of romance and some steamy parts, but even still, this book was a good read. A constant page turner. I cannot wait to read the next one in the series.