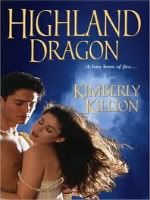 Highland Dragon
Author:
Kimberly Killion
Paperback:
352 pages
Publisher:
Zebra Books (October 1, 2009)
Received From:
Author - for review
My Rating:
4 out of 5
Summary:
First, I'd like to thank Kimberly Killion for sending me a printout of this book. Now onto the review!
It took me a little bit to get into this book, in fact there were several times when I put the book down after only reading a few pages. However, after the first chapter or so I really got into it and I am glad I did.
At the age of 10, Calin MacLeod had followed his father at the age of 10 and witnessed the most unspeakable acts. witnessed his father's death by the Laird of Clan Kinnon. He also saved a babys life that day, and vowed to protect her.
Akira was the babe he had saved, she grew up with some of the Kinnon kin. She knew she had a benefactor somewhere, that would marry her some day and for that she kept herself pure. When she was kidnapped by two MacLeod warriors, she feared she would never get to meet her kind benefactor.
When I first read that Akira had been captured by two MacLeod warriors, I had to go back and re-read the first few pages. I had already connected the dots that Akira was the baby that Calin had saved, but I couldn't fathom as to why he would want her to be captured. The meeting between Akira and Calin had me smiling, not because it was a pleasant meeting, but because it was such an unusual meeting.
Of course Calin and Akira are married, and like all married couples have their differences. One thing that really stuck out to me though, was that the two characters while both bull headed, were obviously in love with one another. There is a cute scene right before they are married where Akira climbs a tree and Calin grants her boons (requests) for their marriage. That whole scene left me going SQUEE!
Of course, like I said all married couples have their differences and when Akira meets Calin's ex-mistress, Catriona, she feels betrayed. Honestly, once Catrioina and Akira met, I thought it was going to be the same ol' song and dance that many novels of this genre seem to adhere too. Husband falls in love with wife, bitter mistress ruins it all by causing wife to leave husband for some stupid reason. Husband then thinks that wife hates him/never loved him and then seeks solace with the mistress, after a bit husband then realizes that the mistress was the reason wife left in the first place. So then he goes after the wife to make her fall in love with him all over again, and eventually they all live happily ever after. But, it was not the case in Killion's
Highland Dragon
, when Akira meets Catriona she pretty much tells her to go to hell, (Which by the way was one of my favorite parts) and then confronts Calin about the whole situation. The whole time I sat there and was like YES! YES! YES! YOU GO GIRL!
There was one thing about the whole story that really threw me off. When Calin had saved Akira as a baby, he had placed a brand on her behind. It's because of that brand that Akira believed she was a witch. There were a few characters who mentioned the fact that Akira was a witch, when they couldn't possibly have known about the brand, unless the brand was very public knowledge in which case how come more people didn't mention it?
The ending was also very unique. Of course it was going to end up happy, but it was twist that made it end up happy that really pulled the ending together.
The characters were all very vivid. I found myself dispisng Catronia and then actually kind of liking her after she showed her human side. I am half in love with Akira's brother Kendrick. I would love to read his story. Heck, I'd love to read another story set in this same universe. There were several characters who could possibly have their own story, I know I'd want to read it.
I would happily recommend this book to anyone who likes romance. I cannot wait to pick up another of Kimberly Killon's novels.
Book Trailer:
As if this review isn't already long enough (LOL!) I found a book trailer for this novel and decided I should share it with my readers.
NOTE: This review was not influenced by the fact that the author sent me the book. Nor did I recieve any kind of compensation for the positive review.