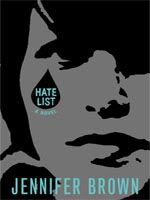 Hate List
Author:
Jennifer Brown
Hardcover: 416 pages
Publisher: Little, Brown Young Readers (September 1, 2009)
My Rating:
5 out of 5
Summary:
This book touches on a very sensitive subject, school shootings. It was a very tough read. It also was an incredible read. I had a hard time putting it down, and found myself crying more than once. Jennifer Brown did an amazing job with this book, and I honestly would like to see her tackle more tough subjects. She handled the subject with grace but was still real, and honest.
Valerie was a killer. At least that's what she thinks the kids at school are going to think. Her boyfriend Nick shot up the school, and killed a lot of kids. When she tried to stop him he accidentally ended up shooting her, before he turned his gun on himself.
Valerie feels guilty because the people shot were part of a Hate List that her and Nick maintained. The list had anything on it that they hated, be it people, vegetables or having to do their homework.
When the new school year starts Valerie isn't sure she even wants to go back, but she knows she has too. Her parents aren't as supportive as she thinks they should be, and she's terrified that everyone is going to blame her for Nick's actions, and she feels like maybe she is at fault.
This book was an amazing tale of self discovery and forgiveness. I would happily recommend it too adults as well as older teens. I say older teens because of the subject matter it deals with. I even think that this book would be good to use in a classroom setting.