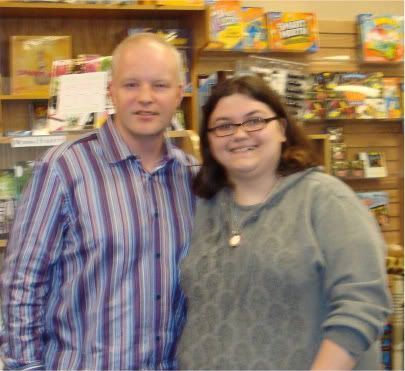 For Zombie Appreciation week, I decided to Re-post and take another look at my first review of
Generation Dead
by Daniel Waters. I actually had the privilege of meeting Daniel Waters a couple of months back, and was instantly charmed by him. For someone who writes about zombies, he was a very normal guy!
My original review of
Generation Dead
is located
HERE
.
I recently re read this book and realized that I really do like it. It was a great read, that really hits on how people can react to things that are different or strange to them. And as I pointed out in the original review, Daniel Waters really had a good grasp on how a teenager would react to situations. I would give it a slightly higher rating as well. Instead of a 3 out of 5, I would change it to a 4 out of 5.
Now for the fun part though! This is your chance to win some awesome Generation Dead prizes

1 lucky winner will receive an autographed copy of Generation Dead along with a Generation Dead wrist band.
4 other lucky winners will receive a Generation Dead wrist band.

+1 for leaving a comment here with your name and email address
+5 for already being a follower
+4 for becoming a follower
+3 if you tweet about or post this contest somewhere on your site (Please include a link to where it is posted. Sidebars are OK!)


Winners can be from anywhere! No P.O Boxes

Winners will be announced MONDAY SEPTEMBER 7th