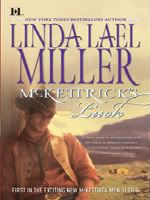 McKettrick's Luck
Author:
Linda Lael Miller
Paperback: 384 pages
Publisher: Harlequin Books (February 1, 2007)
My Rating:
3 out of 5
Summary:
Cheyenne has come a long way from the girl sent to fetch her father home from the local bar. She's now successful, grown up and over her teenage crush on Jesse. That is until she winds back up in her home town of Indian Rock, Arizona with her disabled brother and her mother.
Cheyenne needs to make a deal with the devil, the devil being Jesse McKettrick. She needs to convince him to sell her his land, so that the company she works for can build a set of condos on it. The situation gets sticky, when some accusations are thrown, and of course things get hot. Sparks are flying and eventually Cheyenne realizes that you can't out run your past. You can only embrace it.
After reading Lily and the Major, I wasn't sure if I would ever pick up another Linda Lael Miller book, but boy howdy am I glad I did. This book had a wonderful cast of characters. All of them felt realistic, and very much so alive. The setting was breathtaking, and the description of the scenery made me wish I could be there as well.
I would happily recommend this book to anyone who likes Western settings.