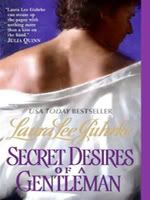 Secret Desires of A Gentleman
Author:
Laura Lee Guhrke
Paperback: 384 pages
Publisher: Avon (September 30, 2008)
My Rating:
3 out of 5
Summary:
My only issue with this book is that for a historical romance Maria seemed a little too modern. Other than that this book fit right in with the Girl Bachlor series by Laura Lee Guhrke. Quick page turner that had enough romance and drama to keep it going, without it being too over the top.
Maria is so much closer to finally achieving her dream of owning her own pastry shop, when she finds out that Phillip Hawthorne, the man who prevented her from marrying her love twelve years later, has a chance to ruin her life.
There were some pretty steamy sessions between Maria and Phillip in the book. I also found myself really liking Phillip, but I blame that on the fact that I just love the name Phillip for a guy. Because in reality at least in this book, Phillip was kind of cruel. There are some parts where I wanted to smack him upside his head and ask him what he was doing.
Overall though good read. I wouldn't read this one again, but I'm planning on buying anyway to complete out my collection of this series.
The author has an expert up on her website
HERE