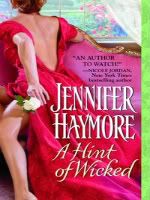 A Hint of Wicked
Author:
Jennifer Haymore
Paperback: 432 pages
Publisher: Grand Central Publishing (June 2009)
My Rating:
3.5 out of 5
Summary:
First of all let me say that this book was a hot read. I'm talking super steamy. The waves of tension, both sexual and normal that radiated from these characters really could have lit something on fire. While I read this book, I laughed, I cried, I threw things.
Sophie is an amazing heroine. Head strong and dependable. She loves her man ... er men. When she finds out that Garrett is dead, it breaks her. I wish that we could have seen more of how finding out about his death had changed her. Later in the book it comes to light that she had married Tristan. This threw me for a loop when I first read it, I had to go back and re-read the beginning to make sure I didn't miss anything.
That being said, both Garrett and Tristan were pretty awesome themselves. I felt that most times Garrett was a bit too harsh, and too stubborn and honestly for the most part acted like a petulant child. Tristan was extremely loyal, and if he had not stood up for himself and fought back, I almost would have labeled him a door mat. In the end though, he redeems himself. (Ohh mysterious!)
The bad guy in this novel was kind of confusing, but once I realized that I was reading too much into him, he instantly became much easier to understand. I would like to see him make an appearance later on in this series.
Overall a great read. Something I would recommend to anyone who wants a little steam in their life, or is looking for a fast paced romance.
An Expert can be found:
On the Author's website, or by clicking
HERE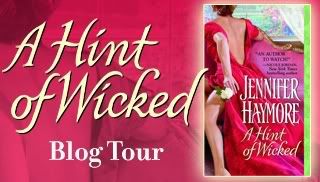 WANT TO WIN A COPY?
I have 4 copies to give away.
+1 Leave a comment here with your name and email address and be entered to win a copy.
+1 If you entered to win the Teaser Tuesday copy, but didn't win.
(No more comments being accepted on that post. Winner of the Teaser Tuesday contest will be announced with the winner of this one)
+1 If you start following me
+2 If you are already following me
+1 If you tweet or post about this contest (Send me the link in a comment!)
U.S and Canada only, No P.O boxes
Special thanks to Anne at Hatchet for allowing me to host this give away.
Winners for today's contest & the Teaser Tuesday contest will be announced
MONDAY JUNE 1st
Good luck!