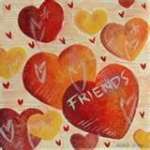 Jessica Marie from
Books Love Jessica Marie
has awarded me with the Let's Be Friends award. Thank you so much!
About this award:
Blogs that received the Let's Be Friends Award are exceedingly charming. These kind bloggers aim to find and be friends. They are not interested in self-aggrandizement. Our hope is that when the ribbons of these prizes are cut, even more friendships are propagated. Please give more attention to these writers. Deliver this award to eight bloggers.
The bloggers I pick are:
Callista from SMS Book Reviews
Sarah from Behold the Thing that Reads A Lot
Mee from Books of Mee

I couldn't pick just 8 blogs, so I awarded it to the 3 that I would like to get to know better, and would like to see others pay more attention too.