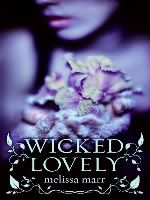 Wicked Lovely
Author:
Melissa Marr
Paperback: 352 pages
Publisher: HarperCollins (April 29, 2008)
From the back of the book:
Rule #3: Don't stare at invisible faeries.
Aislinn has always seen faeries. Powerful and dangerous, they walk hidden in mortal world. Aislinn fears their cruelty—especially if they learn of her Sight—and wishes she were as blind to their presence as other teens.
Rule #2: Don't speak to invisible faeries.
Now faeries are stalking her. One of them, Keenan, who is equal parts terrifying and alluring, is trying to talk to her, asking questions Aislinn is afraid to answer.
Rule #1: Don't ever attract their attention.
But it's too late. Keenan is the Summer King who has sought his queen for nine centuries. Without her, summer itself will perish. He is determined that Aislinn will become the Summer Queen at any cost—regardless of her plans or desires.
Suddenly none of the rules that have kept Aislinn safe are working anymore, and everything is on the line: her freedom; her best friend, Seth; her life; everything.

Personal Review:
A friend of mine lent me this book, and within a day I had read it and wanted more. The story is of Aislinn, a girl who has seen fairies her whole life, and all the rules she had to follow in order to not let them know that she can see them. The characters in this book, stood out so beautifully. While the main focus is on Aislinn, Seth and Keenan, the other characters in the book have distinct voices, and would I believe, be able to stand on their own in a story of their own. Which they do in the following book, Ink Exchange.
The story, is amazing. It made me actually feel for Aislinn, and made me cheer for her. I felt that she would be someone I would be friends with. Keenan sounds like he would be a bit bossy, and overbearing, but Seth. Oh my Seth, he would be a wonderful boyfriend. Both sensitive and strong, and always having Aislinn's back.

I couldn't put this book down, couldn't stop reading it, and when it was over I wanted to re-read it. Which I did.
Rating: 5 out of 5