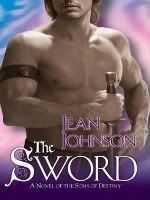 The Sword (The Sons of Destiny Book 1)
Author: Jean Johnson
Paperback: 336 pages
Publisher: Berkley (March 4, 2008)
From the back of the book:
Eight brothers, born in four sets of twins, two years apart to the day - they fulfill the Curse of Eight Prophecy. To avoid tempting their destiny, the brothers are exiled to Nightfall Isle, a land where women are strictly forbidden. But, when the youngest of the mage-brothers rescues a woman from another universe, their world is altered forever.
Kelly Doyle wasn't just having a bad day, she was having a bad decade. Threatened, attacked, and accused of dabbling in witchcraft, Kelly has just about had it with her narrow-minded neighbors in her small town. And now she has somehow landed in another, magical dimension - the only woman in a magical realm inhabited by eight men who are desperately in need of a woman's touch.
Now with Kelly in their midst, Saber, the eldest of the eight, is forced to confront the curse that plagues them - if he falls in love, disaster is imminent. But in teh aftermath of a mysterious attack, Saber and kelly find themselves drawn to each other, despite the threat of the looming Prophecy. Their passion only grows stronger, and they soon give in to temptation. If only the fates didn't take such things so seriously ...
Personal Review:
Starting off with this book, I didn't know if I would like it. It started off slow, and Saber just felt weird to me. I mean honestly who names their child Saber? The more I read on though, the more I liked it. Saber started to grow on me, where as Kelly really didn't until the very end.
The brothers saved her from death, and everything they did was wrong. Their house wasn't clean enough, they weren't respectful enough. I understand that she had some issues to deal with, the whole being thought she was a witch, and starving thing. Yeah, yeah. I got it. However, the brothers had a lot to deal with themselves. They had to give up everything they had and were exiled to Nightfall Isle.
An attack of creatures on the brothers, something that they had been dealing with since they were exiled, scared the bejesus out of Kelly. But because she forced the brothers to clean their whole castle, they had a much easier time making sure that all the creatures were taken care of. Not before Kelly and Saber were injected with a venom, that forced them to spend a large amount of time together. It was during this time that they realize that they are in love, and are going to be getting married.
A few days later disaster struck, and it was during this disaster that I really grew to like Kelly. She kept her head, and got stuff done. She made it so that things were accomplished during the disaster, and even set up for later in case more problems would arise.
Rating:
5 out of 5