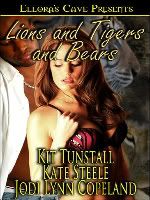 Lions and Tigers and Bears
Author(s): Kate Steele, Jodi Lynn Copeland, Kit Tunstall
Paperback: 261 pages
Publisher: Ellora's Cave (February 2006)
From the back of the book:
Hidden Heart by Kate Steele
Rafe Kutter is hiding a terrible secret, and with it his heart. he's a werebear determined to never pass on his curse to a child of his own. Bold and bewitching Lindy Timberlane not only frees his heart, but ignites a blaze of passion that he fights to deny.
Amazed by Rafe's abilities and appalled that he believes he's cursed, Lindy risks her own heart to help him accept his gift and hopefully her love.
Lion Eyes by Jodi Lynn Copeland
Liddy's out to vindicate the linos in her sanctuary from an accusation of murder and absolve her own buring hunger for the one man she knows better than to want.
Kevin has wanted Liddy since first meeting her. Two obstcles stand in the way of that desire: skin color and the fact taht Kevin is leader of the area shapeshifter pride.
Too many humans fear shapeshifters, and Kevin believes Liddy may be among them, especially when the truth is revealed - it isn't a normal lion responsible for the killing but one of Kevin's own kind.
Tiger Eye by Kit Tunstall
The attack of a tiger nearly killed Grant Hayden as a child, and only the strength of the big cat saved him. But the ritual performed by an African medicine man also left him with the side effect of taking on a tiger's form. Guarding his secret has necessitated he not get too close to any woman. That proves difficult when Dr. Zinsa Senghor takes up temporary residence in his veterinary clicinc to esacpe the nearby fighting of the civil war ravaging Mekimba. Zinsa is more temptation than he can withstand, but Grant fears her reaction when she discovers the nature of the beast locked inside him.
Personal review:
While each of these three stories were hot, they didn't do it for me. I don't know if the were-creature thing is to blame or just because the characters seemed to be a little flat. However, the imagery from the writing was very good.


Rating:
2 out of 5