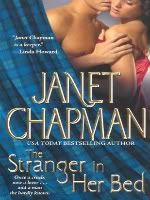 The Stranger in Her Bed
Author: Janet Chapman
Paperback: 368 Pages
Publisher: Pocket Star (January 30, 2007
From the back of the book:
When Ethan agreed to work at a sawmill his family is purchasing, he didn't foresee getting fired on his first day. He should be mad at the fiercely outspoken female foreman, but something about her seems disconcertingly familiar - even though Ethan is sure he'd remember meeting a stunning beauty like Anna Segee before.
Anna has never forgotten Ethan - or the schoolgirl crush she had on him before her father whisked her off to Canada. Now the shy, gangly girl is grown up and back in Oak Grove with a new name, new confidence, and a newly inherited mill of her own. Her superb reputation in a male-dominated industry hasn't come easy, but even harder will be ignoring the sexy man Ethan has become…
Personal Review:
The book wasn't a real quick read, and some of the plot seemed a little under developed. Once I got into the book however, it seemed to speed right along. Plenty to keep you wondering what would happen. I was pleased though to see it all come together. I wish that Anna's mother would have been introduced, it could have been an amazing dynamic. All in all though a satisfying read, love books about women who are in charge.
Rating: 3 out of 5