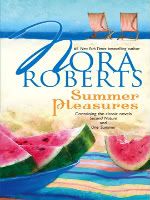 Summer Pleasures
Author: Nora Roberts
Paperback: 532 pages
Publisher: Silhouette Books (August 1, 2002)
From the back of the book:
Second Nature - Wrangling an exclusive with notoriously reclusive Hunter Brown was a real coup for
Celebrity
magazine reporter Lee Radcliffe. But alone on a camping trip with the seductively mysterious author, she discovered it was
Hunter
she wanted…exclusively.
One Summer - A summer spent traveling across America with cynical, brooding photojournalist Shade Colby was not Celebrity photographer Bryan Mitchell's idea of a dream assignment. They disagreed abotu everything - everything, that is, except the fierce attraction they could not deny.
Personal Review:
Second Nature - The first story in this book fell a little flat for me. While it was entertaining it just didn't suck me in the way many stories written by Nora Roberts do. Lee felt a bit stuffy at times, which I guess was the way she was supposed to be given her personality, but for me it just felt as if it was being forced. Hunter was delicious, but in one of those ways that you know shortly after meeting or having him, you'd want to trade him in.
One Summer - I identified with this story much more than "Second Nature". This read was quick and snappy, almost couldn't wait to see what would happen next. Where as the other one turned me off, this one got me reading as fast as I humanly could. Bryan felt like someone I would be friends with, I kept finding myself wanting to offer her advice. Shade was someone that while I wouldn't necessarily be friends with, he is someone I could see my friends with.
Rating: 2.5 out of 5